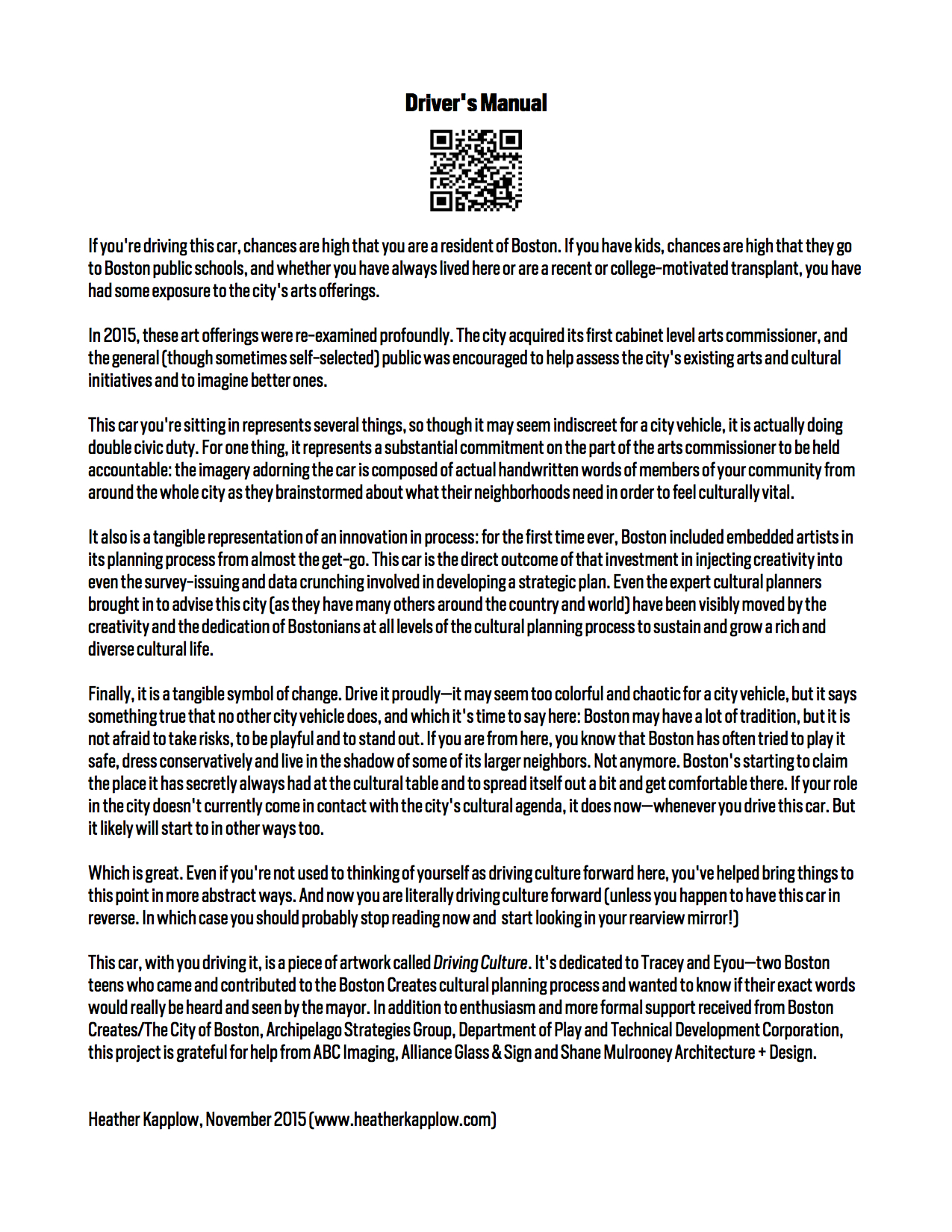 Driving Culture
From late-July 2015 through September 2015, I acted as an official "Artist-Ethnographer" within the City of Boston's cultural planning process, Boston Creates.
The role felt like something between being an embedded journalist; a spelunker trying to go a bit deeper into arts communities that I knew were refraining from participation in the Boston Creates process; and a curator of crystallized expressions of some of the critical themes and issues that the Boston Creates process brought to the surface through its engagement with members of Boston's arts communities and neighborhoods.
During the residency I used a combination of creative exercises to explore the Boston Creates process, including audio recording, performance art techniques and some community engagement practices in environments where I knew Boston Creates could not go.
As a culminating project for the residency, I decided to create a design for a city vehicle using the actual handwritten desires expressed by citizens of greater Boston at Boston Creates meetings.
I was moved to do this by a conversation with some kids at a youth community discussion where they asked a question directly that I'd heard many adults hint at. The question was this: "I know you are collecting information about what people need and want, but will Julie Burros (Boston's Chief of Arts and Culture) hear exactly what I said? Will she hear my voice if I speak into your recorder? Will she see what I wrote here?" I found this desire for exact words, and the nuances of people's individual voices to be a very compelling piece of the story of the Boston Creates process, so decided to create a pattern based on scans of the pages that communities wrote on during the discussions. The piece, Driving Culture, includes the car and anyone from the city who drives it while they are driving it. When not in use, it will reside on City Hall Plaza and act like a more traditional public artwork.
Driving Culture is dedicated to Tracey and Eyou—two Boston teens who came and contributed to the Boston Creates cultural planning process and wanted to know if their exact words would really be heard and seen. In addition to enthusiasm and more formal support received from Boston Creates/The City of Boston, Archipelago Strategies Group, and TDC, this project is grateful for help from ABC Imaging, Alliance Glass & Sign and Shane Mulrooney Architecture + Design.
(Photos with view of city in background by Robert Pardo.)