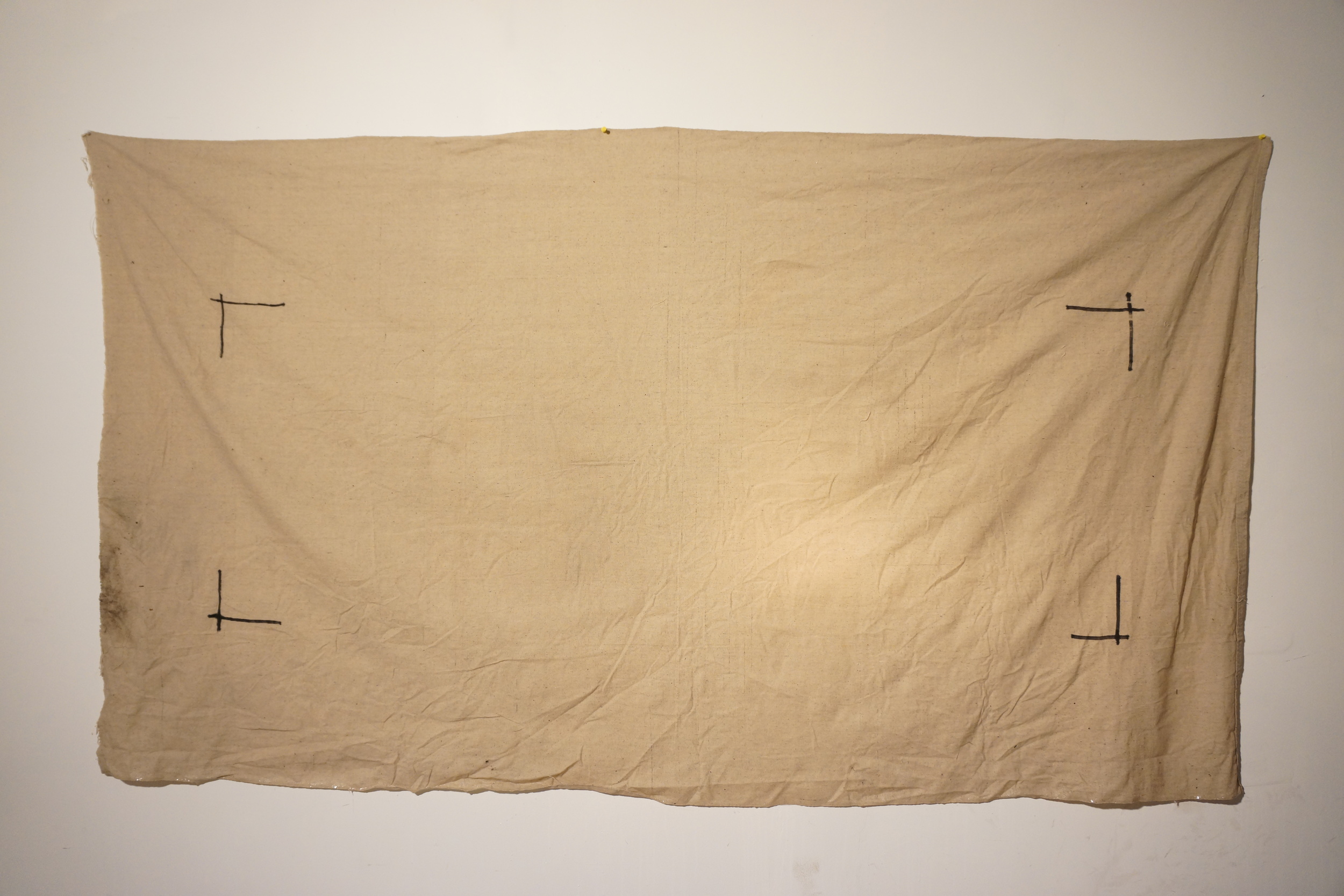 Acclimation
For the month of July 2013, I acted as a Weather Reporter for SP Weather Station, measuring the weather around their weather measuring devices with my own body's weather measuring devices, and studying when, why, and how people talk about the weather. My goal, beyond creating a product for the limited edition 2013 SP Weather Station portfolio, was to look closely at the places where social discomfort and physical discomfort meet and cancel one another out.
This project was undertaken as an artist-in-residence at Flux Factory and the results, were exhibited from January - March 2014 at The Center For Book Arts. The image shown here is a piece of canvas containing sweat, sunscreen and Long Island City weather.
(Mixed media including canvas, sweat, sunscreen, weather, video, audio, photography, performance, interaction, safety pins, professionally printed cardstock and a daily diary, available online here.) Photo credit: Katrina Neumann and Heather Kapplow.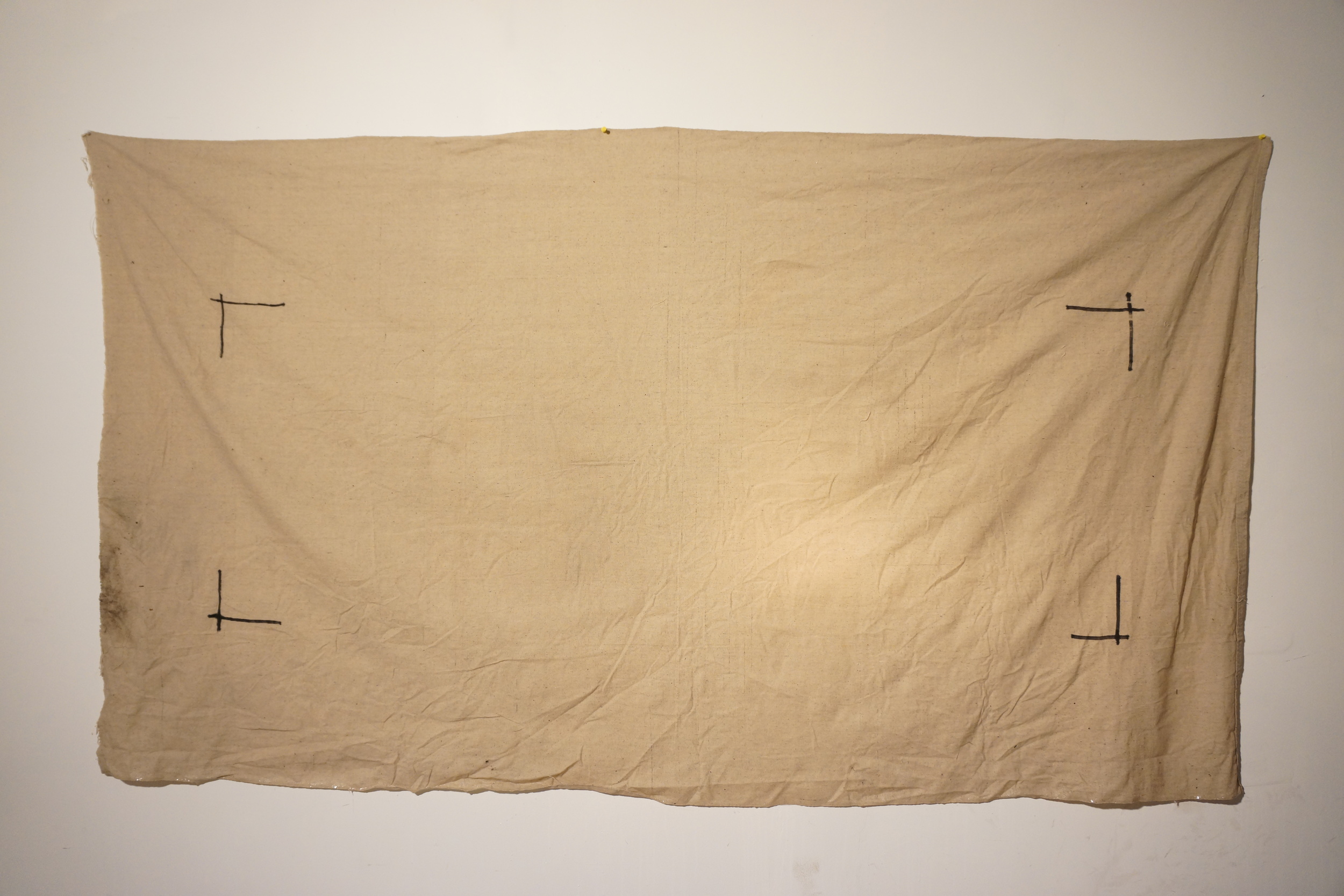 Acclimation
This is a 23 minute video about the weather in July 2013. It was produced during an artist's residency at Flux Factory for inclusion in a limited edition portfolio produced in 2013 by the SP Weather Station project.
The video consists of over 900 consecutive daily photos that I took between July 1, 2013 and July 31, 2013. The photos are all of a piece of canvas that I laid on for at least one hour during each day of July 2013, on the roof of the Flux Factory in Queens, NY, right below the SP Weather Station. I laid on the canvas (in a bikini + sunscreen) in 103 degree weather and in torrential downpours. I laid there at 1am, 3am, 5am, 7am, 9am, 1pm, 3pm, 5pm, 7pm, 9pm, midnight and noon. Sometimes I laid there while others worked or partied or ate a few feet away. Other times I laid there with just the moon or the sun, or an endless view of clouds and the sound of trains passing by every 15 minutes or so. Both the canvas and I got to know the weather in that exact location extremely well.
The audio here is a mix of: 1) The song "Get Together Weather" (Hans Conried, Peter Lind Hayes and Mary Healy) from Dr. Seuss's 1953 musical 5,000 Fingers of Dr. T, slowed down to 10% of the original recording; 2) The data captured by the SP Weather Station for the same time periods that I measured the weather with my body, where available, read aloud by the Apple computer voice "Vicki"; 3) Interviews done with strangers in NYC during my residency period about when people talk about the weather.
The video was delivered on a DVD, in a limited edition case made for the SP Weather Station project from the canvas described above. It included a card describing the contents of the case and the edition number associated with each. The entire project inclusive of the limited edition video and packaging, the photographs, the interviews, and the performative/engagement aspects of the work is titled Acclimation. A daily diary kept during my residency at Flux Factory is also available as a free PDF download.
Acclimation Credits:
Conceptual/performance artist, interviewer, video creator and primary photographer: Heather Kapplow
Additional photography: Katrina Neumann
Special Thanks to: SP Weather Station; July 2013 Flux Factory Studio Inhabitants and Staff; Jessica, Jonathan and their respective significant others; Peter Pappas of Harrison Refrigeration & Appliances (who inspired the project) and T. Zedek.